It was a leap. A leap in terms of the money spent. Arsenal's previous highest transfer fees was less than 20 Mn GBP and to spend more than 40 Mn on a single player was a giant leap financially.
It was a leap. A leap in terms of from where we do business. Arsenal, rarely if ever, buy from the top table of European football. To buy a player - in the prime of his playing life from Real Madrid is a massive leap.
It was about faith. Faith in his ability is what it appears Mesut Ozil felt was lacking at his previous club.
It was about faith. Faith is what Mesut Ozil felt Arsene Wenger would repose in him. And faith is what he needs - from his manager - to develop his game further.
But, most of all - it was a leap of faith. A new found belief - that yes, we can now unshackle ourselves from our financial constraints. A leap of faith it was, to invest such a big amount in one player - world class yes, but one single player. A belief that we can take such risks and not be jittery about it. A confidence that the corner has been turned.
And when it was happening on deadline day, one just could not believe it. Till it happened.
It's official… @MesutOzil1088 is an #Arsenal player. Read the full story, with quotes from Ozil: http://t.co/sFtrKrcOaG #OzilIsAGunner
— Arsenal.com (@Arsenal) September 2, 2013
It was beautiful. It was audacious. And finally after a completely unnecessary, ill timed - interlull which was following a most exasperating and frustrating transfer window, when the dude stepped on to the pitch yesterday, it was well worth the wait. For the Faithful.
Eyes on the ball
PS: Ozil's home debut last Sunday was incredible. Rarely has any new player at any club been welcomed with this love and affection. This pic depicts the madness quite well:
OZILS in ARMS !
And talking about A Leap of Faith - well this is how it looks like !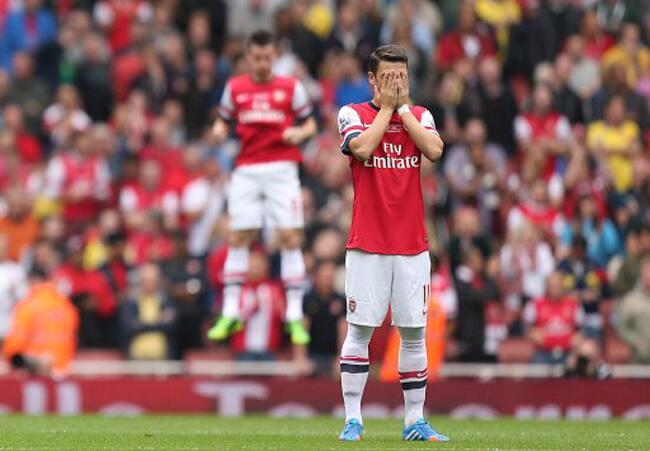 A LEAP OF FAITH !